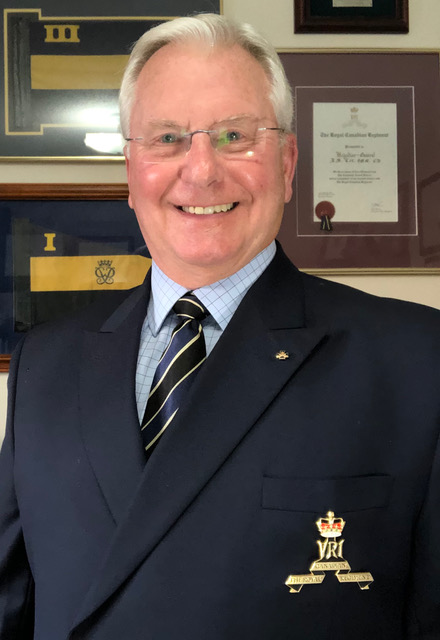 BGEN JAMES S. COX, OMM CD BA MA Ph.D. psc, plfsc (Retired)
Brigadier-General (Retired) Dr. James (Jim) S. Cox served in three of the four battalions of The Regiment, commanding the 2 RCR Recce Platoon (1971-72), Duke's Company1 RCR (1979-81) and 3 RCR (1985-87). He also served as the Regimental Exchange Officer with 1 Glosters in Minden, West Germany (1972-74), two tours of duty with the Canadian Airborne Regiment (1976-78 and 1981-83), Deputy Commander of the Special Service Force (1991-92), and Commander 1 CMBG in Calgary (1993-95). During his career, Jim completed three operational tours of duty with the United Nations in Cyprus, Somalia Central Africa, and participated in three operational NATO missions in Europe.
After leaving the Canadian Armed Forces in 2001, Jim served as an analyst in the Library of Parliament, from 2005-2011, supporting the House of Commons Special Committee on the Canadian Mission in Afghanistan, the House of Commons Standing Committees on National Defence and Veterans Affairs, the Standing Senate Committee on National Security and Defence, the Senate Subcommittee on Veterans Affairs and the Canadian delegation to the NATO Parliamentary Assembly.
In 2007, Jim entered academia to teach at the University of Ottawa and Carleton University's Norman Paterson School of International Affairs (NPSIA). He was also periodically a contract facilitator at the Canadian Forces College. From 2012-15, he served as the Vice-President Academic Affairs with the Canadian Military Intelligence Association. Jim became President of The RCR Association in 2017 and Chair of the Board of Directors 2018-2020.
In 1993, Jim was awarded the Order of Military Merit in the grade of Officer by the Governor-General of Canada. In 2013, he received the Queen's Diamond Jubilee Medal from the Chair of the Senate Committee on Foreign Affairs and International Trade for his continuing service to Canada.
Today, Jim teaches graduate courses in Intelligence and Public Safety for Wilfrid Laurier University and conducts intelligence workshops at NPSIA. He is also a member of the Commissionaires Ottawa Council of Governors, Chair of the Board of Directors of the Canadian Chapter of the International Association for Intelligence Education, and a Research Fellow with the Conference of Defence Associations Institute. He has authored articles, papers and book chapters related to intelligence in government.
Jim studied at the NATO Defence College in Rome and is a graduate of the University of Manitoba, the Canadian Army Command and Staff College, and the Canadian Forces College. He holds an MA and Ph.D. in War Studies from the Royal Military College of Canada.