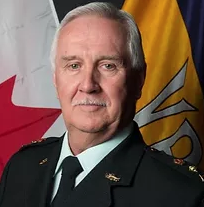 Honorary Lieutenant Colonel Bruce W. Burnham was born in Chatham, Ontario; the son of David Earl Burnham, a veteran who fought from the beaches of Sicily to the gates of Apeldoorn with The Royal Canadian Regiment in the Second World War. LCol Burnham's connection to the Regiment is therefore strong and comes in addition to his 45-year membership with the Royal Canadian Legion.
Mr. Burnham grew up in Ridgetown, Ontario; a small town about 60 miles west of London. He attended the University of Western Ontario's Ivy Business School and has maintained a long-standing connection to the University and the local business community ever since. After graduating, he returned to Ridgetown and opened a Sporting Goods Store as well as an H&R Block Franchise. He became the founding President of the Ridgetown Kinsmen Club and in 1971 joined the London Branch of the Sun Life Financial Insurance.
In 1980, LCol Burnham proposed a joint insurance venture with Home Hardware Stores Ltd, forming a company called Programmed Insurance Brokers Inc. The company grew rapidly and was split into 2 separate companies. Today, his company has close to 300 employees with offices in Halifax, Edmonton, Montreal, Chatham, and London with a headquarters in Elmira, Ontario.
Currently, he is the CEO of Programmed Insurance and the Chairman of the RwAM Insurance with Home Hardware Financial. He is also the Insurance Broker of choice for the Royal Canadian Legion and has accepted a position on the board of directors with the Legion Poppy Fund.
Mr. Burnham is an honorary member of the London Police Association and a recipient of the Queen's Diamond Jubilee Medal. Hon LCol Burnham has resided in Ilderton, Ontario for the past 40 years and lives with his wife Bernie. They have 5 children with 7 grandchildren. HonLCol Burnham, despite his busy life, is an avid sportsman, an exceptional curler and enjoys travelling with his family.