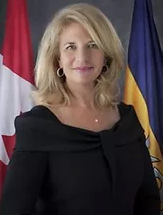 Judith Irving
Judith Irving was born in Saint John, New Brunswick and currently resides in Rothesay, NB with her four children. She grew up in a business and philanthropic environment as the daughter of Mr. and Mrs. J.K. Irving and granddaughter of industrialist K.C. Irving. She attended Stony Brook School of Long Island, New York, and later Acadia University and Holland College, where she graduated with a degree in photography. Following in the family tradition, she worked within the J.D. Irving Group of companies. For more than 10 years she operated her own photography studio. Her great passion for creative communications resulted in her acquisition of Hawk Communications Inc., an advertising and marketing agency located in Moncton, NB, from 2001 – 2007.
In April 2009, Ms. Irving visited Kigali, Rwanda with a team from OneXOne, a non-profit humanitarian foundation, and after observing first-hand some of the group's charitable efforts, accepted an invitation to join its Board of directors. Since that time, she has worked with various OneXOne projects including five trips to Haiti since the January 2010 earthquake in which she assisted with the delivery and distribution of relief supplies. Judith Irving helped organize the acquisition and transport of more than $8 million worth of medical supplies for various humanitarian causes. Ms. Irving assisted OneXOne in organizing "Saint John for Haiti," which raised more than $70,000 for earthquake relief, and brought together three Saint John-area high schools in a joint fundraising campaign that raised $10,000 for the stricken Caribbean island.
She is also a Board member of the TELUS Atlantic Canada Community Group, serves on the Advisory Board of the Salvation Army, and regularly contributes her time and skills to the Partners Assisting Local Schools (PALS) program in Saint John, NB. Each month Judith Irving provides funding for food for an orphanage in Kenya. She has volunteered in many capacities and donated her professional photographic services to a range of other charitable causes, including the Netherwood Chapel Kids Club and Caton's Island Summer Camp for children. Ms. Irving served as fundraising chair for the Atlantic Maple Leaf Tribute dinner in 2011, organized fundraising for the Salvation Army Dinner and served as honorary chair of fundraising for the Rocmaura Nursing Home in Saint John. In 2010 the Canadian Red Cross awarded Judith Irving the Humanitarian Award for her selfless work with OneXOne in Haiti and Rwanda, as well as her committed involvement with many local charities. In recent years Ms. Irving has enjoyed close ties with The Royal Canadian Regiment. As of 05 June 2012, Judith Irving was officially appointed Patron of the Regiment.

Mike Holmes
 Mike Holmes is a professional contractor, television host, public speaker, educator, influencer and writer.  As one of North America's most trusted contractors his no-nonsense approach has struck a chord with TV audiences and industry leaders worldwide, leading him to be named Forbes' Third Most Trustworthy Celebrity and Reader's Digest's Second Most Trusted Canadian. Mike Holmes has built an international brand based on quality, integrity and trust.
With over 35 years of experience as a professional licensed contractor, he has completed over 220 home renovations and remodelling disaster projects and 52 home inspections throughout his television career. His record-breaking, award-winning series and specials are seen in over 90 countries worldwide.
Mike's tireless dedication to improving building standards and sustainable construction has been recognized by both the Canadian government and the building industry and was officially acknowledged by the Canadian House of Commons for his promotion of skilled trades and advocacy for improved building standards. To help ensure homeowners get peace of mind when purchasing a home, Mike created his "Holmes Approved Holmes" program in 2012, which partners with key industry product leaders and builders across North America to bring together the best in building practices.
His passion and integrity to Make It Right® continue through his work as a national spokesperson for SOS Children's Villages Canada, where he has helped increase sponsorship by 2700% since 2005. In 2016, on his second trip with SOS Children's Villages, Mike along with his children, Mike Jr. and Sherry, visited several SOS villages in Kenya. Mike is also a National Spokesperson for Skills Canada, WorldSkills Ambassador, honorary guest speaker for the 2009 GreenBuild conference and 'Eminent Advisor to the Canadian Government' for the COP15 in Copenhagen (United Nations' conference on climate change).
Mike's mission is to improve the building industry from the ground up and raise building standards across the board. He believes that educating the public at large on the importance of upholding building code and construction principles is essential to preserving and enhancing the safety and well-being of communities and households, both at home and abroad.
Mike accepted to become a Patron of The RCR in 2014.