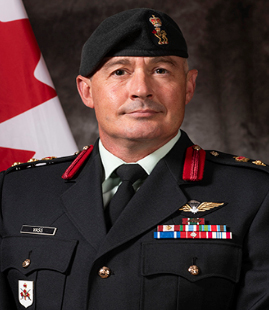 Col Vass spent his high school years in Petawawa, ON and in 1989 he joined the Lanark and Renfrew Scottish Regiment in Pembroke, ON.  The following year Col Vass attended Royal Roads Military College followed by the Royal Military College of Canada graduating with a Bachelor of Science degree in 1994.
Upon commissioning, Col Vass was posted to 1st Battalion then 3rd Battalion, the Royal Canadian Regiment in Petawawa, ON. Holding a variety of positions within the Battalion, he also deployed on a UN mission to Croatia, a NATO mission to Bosnia and attended the US Army Ranger course.
Following a two-year posting to Borden in 2000 as the Executive Assistant to the Commander of the Canadian Forces Support Training Group and the completion of the Transition Command and Staff College at the CLFCSC in Kingston, Col Vass returned to 3rd Battalion as the Adjutant. After his promotion to Major in December 2002, he was privileged to command Parachute Company which included Operation ATHENA, Roto 0 in Afghanistan where he was awarded a Mention and Dispatches.
Leaving 3rd Battalion as the Deputy Commanding Officer Col Vass moved to Ft. Leavenworth, Kansas to complete the US Army Command and General Staff Course and attain his Master in Military Arts and Sciences (MMAS) degree.
Upon return to Canada in January 2008, Col Vass became the Chief of Operations for the Canadian Special Operations Regiment (CSOR). After a year as the CANSOFCOM J7, he was appointed the Commanding Officer of CSOR in June 2010.
Completing second language training in 2013, Col Vass was then posted to Chief Force Development as Director Capability Integration 5. Two years later he was employed as the J3 for CFINTCOM followed by almost 14 months in Baghdad, Iraq as the Chief of Staff Operations for the Ministerial Liaison Team.
Returning to Canada in 2017, he was appointed the Canadian Army G3. In 2019, Col Vass attended the National Securities Program at the Canadian Forces College in Toronto. On June 26, 2020, Col Vass became the Commander of 4th Canadian Division Support Group.
Col Vass lives in Petawawa with his spouse Steph Waito and enjoys fishing, hunting and trying to play most recreational sports.