Colonel Jason C. Guiney, MSC CD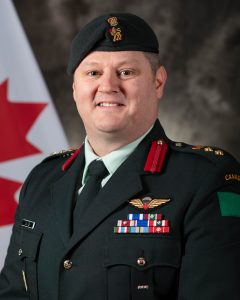 Colonel Jason Guiney was born in Halifax, Nova Scotia and enrolled in the Canadian Armed Forces in 1995 as an infantry officer. Upon completion of his studies at the Royal Military College of Canada, he was commissioned into 2nd Battalion, The Royal Canadian Regiment (2 RCR) in Gagetown, New Brunswick. Col Guiney spent six years with 2 RCR and deployed twice with the Battalion on United Nations missions in East Africa and Haiti.  In 2005, Col Guiney was posted to Ottawa to the Deputy Chief of Defence Staff Group as a staff officer for missions in the Africa region, including a deployment with the Disaster Assistance Relief Team to Pakistan. Promoted to Major in 2007, he deployed with 3 RCR to Afghanistan as the Operations Officer and then attended the Joint Command and Staff Program at the Canadian Forces College. Following staff college, he was posted to the Strategic Joint Staff as a plans officer for the Middle-East and North Africa regions.
Colonel Guiney assumed command of 1 RCR in 2014 and, with his battalion, established the CAF training mission in Ukraine for which he was awarded the Meritorious Service Cross. Following battalion command, he was posted to 4th Cdn Division Headquarters as the G3 and then later as the Chief of Staff. In 2019, Colonel Guiney deployed to the Middle East as the Deputy Commander (Operations) for Canada's mission in the Middle East. Upon his return, he was posted to Canadian Army HQ as the Director of Land Force Development and then attended the National Security Program at the Canadian Forces College. After a brief assignment as the Special Advisor to the Commander Canadian Army, he assumed command of 4th Canadian Division Support Group in Jan 2023.
He holds an undergraduate degree in history, and masters' degrees in Defence Studies and War Studies from the Royal Military College of Canada.
He is married with two children and in his spare time, he and his family enjoy the active outdoor life.