THE REGIMENTAL CWO – Tom Verner, MMM, MSM, CD
Chief Warrant Officer (CWO) Tom Verner enrolled in the Canadian Armed Forces in 1987 as an Infantryman. Upon completion of basic training and infantry battle school he was posted to the 1st Battalion, The Royal Canadian Regiment in London, Ontario.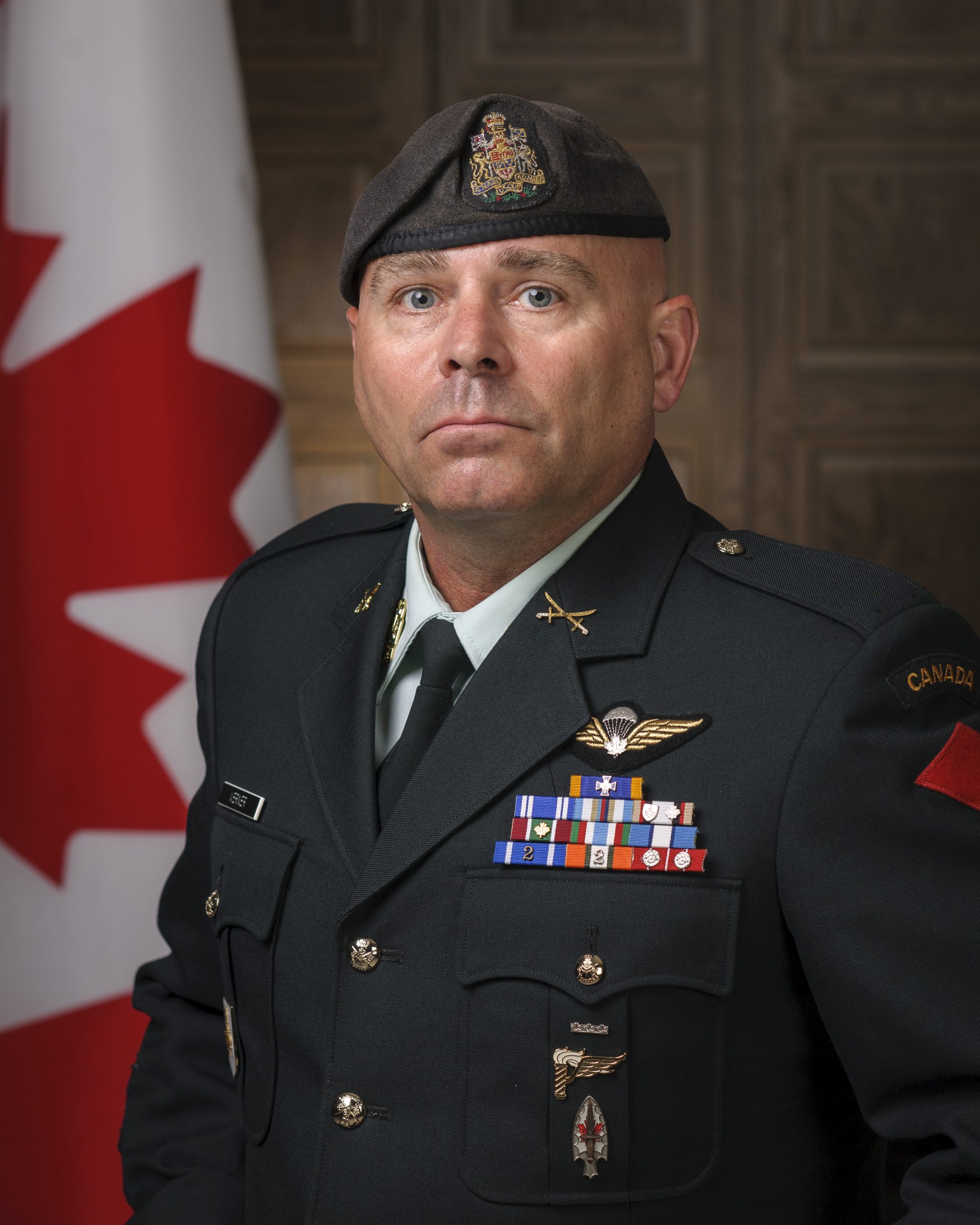 During his service as an Infantryman, Paratrooper, and Special Forces Operator he has served in the 1st and 3rd Battalions of the Royal Canadian Regiment (RCR), 3 Commando and Combat Support Commando of the Canadian Airborne Regiment (CAR), the Canadian Special Operations Regiment (CSOR), culminating as the Regimental Sergeant Major (RSM), and as the Canadian Special Operations Forces (CANSOFCOM) Career Manager in the Directorate of Military Careers (DMILC).
Chief Warrant Officer Verner has completed nine full operational deployments overseas in addition to multiple shorter term domestic and expeditionary engagements. In 1989, he deployed with the United Nations Peacekeeping force in Cyprus with the 1st Battalion the Royal Canadian Regiment. From 1992-1993, he deployed with The Canadian Airborne Regiment in Somalia. He then completed two tours in Bosnia as part of Parachute Company, 3 RCR in 1998 and 2001. Subsequently, he completed four tours in Afghanistan, commencing as a paratrooper on Roto 0 in 2003, and the last as a Special Forces Operator and SOTF Sgt Maj in Kandahar in 2010-2011. His latest tour was a year-long deployment to the Sanai, Egypt in 2016-2017 as the Force Sergeant Major for the twelve nation Multinational Force and Observers (MFO).
From 2017 – 2020, CWO Verner was appointed as the Formation Sergeant Major of the 4th Canadian Division Support Group (4 CDSG) and Base Chief Warrant Officer in Petawawa, Ontario. As a secondary duty, he was appointed in 2019 as the Chief Warrant Officer of the Royal Canadian Infantry Corps (RCIC). During this period he also supported the community in many ways, including sitting on the Board of Directors (Governance) for the Bernadette McCann House, a women's shelter in Pembroke, Ontario.
CWO Verner was appointed in June 2021 as the Formation Sergeant Major (Army Training Sgt Maj) at The Canadian Army Doctrine and Training Center. As a secondary duty, in June 2021 he was also appointed by his Infantry Regiment, The Royal Canadian Regiment, in the role of Regimental Sergeant Major (RCWO).