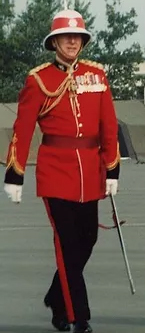 The Duke of Edinburgh has been the Colonel in Chief of the Royal Canadian Regiment since December 1953.
Prince Philip, Duke of Edinburgh was born a Prince of Greece and Denmark in Corfu in 1921 but renounced his Royal title when he became a naturalized British subject in 1947, adopting his maternal grandfather's surname of Mountbatten. At the time of his engagement to Princess Elizabeth, he was known as Lieutenant Philip Mountbatten, RN.
After 1939 when he completed his naval training, Prince Philip served in the Royal Navy. By the time of his father-in-law King George VI's death in 1952, he had reached the rank of Lieutenant Commander, being promoted to Commander in June 1952. From July 1951 The Duke of Edinburgh took up no further active naval appointments owing to Princess Elizabeth's increased Royal responsibilities. He was promoted to Admiral of the Fleet on 15 January 1953. At the same time, he became Field Marshal and Marshal of the Royal Air Force.
Shortly before his marriage to Princess Elizabeth on 20th November 1947, King George VI gave him the titles of The Duke of Edinburgh, Earl of Merioneth and Baron Greenwich. The style of His Royal Highness was also authorized shortly before his marriage. He is most commonly known as HRH The Duke of Edinburgh.
The Queen accorded him the style and title of a Prince of the United Kingdom on 22nd February 1957. He is addressed as either 'Your Royal Highness' or 'Sir'.
The Duke's full title is HRH The Prince Philip, Duke of Edinburgh, Earl of Merioneth and Baron Greenwich, KG (Knight of the Garter), KT (Knight of the Thistle), OM (Order of Merit), GBE (Knight Grand Cross of the Order of the British Empire), AC (Companion of the Order of Australia), QSO (Companion of The Queen's Service Order), PC (Privy Counsellor).
In addition to his British decorations, he has been awarded many foreign orders and decorations. He also holds honorary appointments and rank in the Armed Services.
Prince Philip is only the second person to bear the title 'The Duke of Edinburgh' as it has been created in the Peerage of the United Kingdom. The first was his great-great-uncle, Prince Alfred Ernest Albert, fourth child and second son of Queen Victoria and Prince Albert. Prince Philip's youngest son, Prince Edward, will take the title on his death.