The Chair of The RCR Senate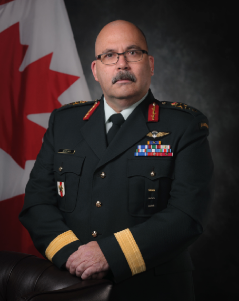 The current Chair is MGen Steven Whelan, OMM, MSM, CD
Major-General Steve Whelan began his military career when he joined the Lanark and Renfrew Scottish Regiment (Ontario) as a part time soldier in the infantry. There he enjoyed an extraordinary and rewarding experience as a non-commissioned officer, and then as a commissioned officer in the Reserves for six years. Following this, he transitioned to full-time service in the Canadian Armed Forces as an infantry officer and continued his career with the 2nd Battalion, The Royal Canadian Regiment (RCR), in Gagetown, New Brunswick.
Major-General Whelan has had a number of Command appointments which include Commander of November Company 3 RCR in Petawawa, Ontario, commander of the Canadian Forces Leadership and Recruit School in Saint-Jean-sur-Richelieu, Quebec, Commander of the Canadian Defence Academy, and Commander of Military Personnel Generation, these last two in Kingston, Ontario.
Major-General Whelan has also served in a number of Staff assignments throughout his career. He was pressed into service at the National Defence Headquarters in Ottawa, where he served as the following: Infantry Career Manager of Military Personnel Command, Section Head of expeditionary operations/Strategic Joint Staff, Chief of Staff to Chief of Force Development, Chief of Staff to Commander Military Personnel Command, and Chief of Staff – Strategy for Military Personnel Command.
Operationally, Major-General Whelan has served in Cyprus as Platoon Commander, in Bosnia as a Platoon Commander and Operations Officer, in Afghanistan supporting stabilization, in Jerusalem supporting security force cooperation, and most recently in Iraq fighting ISIS alongside 73 other Coalition nations in a US Army Joint and Combined Headquarters.
Major-General Whelan is a graduate of the Land Forces Command and Staff College in Kingston, both the junior and senior course, and of the Canadian Forces Command and Staff College in Toronto. He has a three-year diploma from St. Lawrence College, Kingston, in Civil Engineering, a Bachelor from the Royal Military College of Canada (RMC) Kingston, a Master in Conflict Resolution from Royal Roads Military University, British Columbia, a Master in Defence studies from Royal Military College of Canada (RMC), and a Master in Strategic Studies from the United States Army War College in Carlisle, Pennsylvania.
Major-General Whelan was appointed to the position Deputy Commander Military Personnel Command in July 2019.
Details on the roles, responsibilities, and membership of The RCR Senate can be found in the RSOs starting on page 223. The RSOs are available on this website, and you can access the publication HERE.