The Chair of The RCR Senate.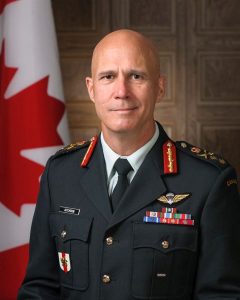 Major-General Craig Aitchison joined the Canadian Armed Forces (Reserve) in January 1985 then transferred to the Regular Force through the Regular Officer Training Plan in 1987. He attended the University of New Brunswick in Fredericton, graduating with a Bachelor of Business Administration. He completed his Infantry Phase training and was badged into The Royal Canadian Regiment where he served in a variety of command and staff positions over three regimental tours with the 2nd and 3rd Battalions.
He deployed three times with The Regiment to the Former Republic of Yugoslavia: once on Operation CAVALIER and twice on Operation PALLADIUM. He deployed to Afghanistan on Operation ATHENA where he served for nine months as the Current Operations Officer at Headquarters Regional Command (South) in Kandahar.
Major-General Aitchison served extra-regimentally at the Canadian Forces Officer Candidate School in Chilliwack, British Columbia, the Canadian Forces Leadership and Recruit School in Saint-Jean-sur-Richelieu, Québec, and the Tactics School in Oromocto, New Brunswick.
He has commanded at each level up to and including a Formation at Base Gagetown. In 1991, he was a Platoon Commander and in 2003 a Company Commander at 2 RCR. From 2009 to 2011 he commanded the Infantry School and in July 2015 he took command of the Combat Training Centre. On promotion to Brigadier-General in August of 2017, he deployed to Iraq as the Chief of Staff for the Combined/Joint Forces Land Component Command, Operation INHERENT RESOLVE. Upon redeployment from Iraq he assumed the position of Deputy Commanding General for Operations at United States Army Alaska at Joint Base Elmendorf Richardson. Major-General Aitchison was promoted to his present rank in June of 2020 and assumed command of the Canadian Defence Academy in August of that year.
Major-General Aitchison holds master's degrees in Defense Studies from Royal Military College of Canada (RMC) Kingston, as well as Military Arts and Science from the U.S. Army Command and General Staff College. He is a graduate of the Canadian Army Command and Staff College, the Joint Command and Staff Programme at the Canadian Forces College, and the Advanced Operational Art Studies Fellowship at the School of Advanced Military Studies in the United States. There, in his second year, he was a seminar leader, teaching operational art to a group of bright, motivated majors. In May of 2013, upon completion of his time in Kansas he was posted to Ottawa, Ontario as Director of Army Staff and Director of Infantry
An avid distance runner, a restorer of antiques and passionate cook, Major-General Aitchison and his wife are also the proud parents of two adult children, and grandparent to a beautiful granddaughter.