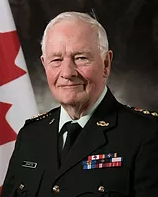 The Right Honorable David Lloyd Johnston PC CC CMM COM CD FRSC FRCPSC
David Johnston was born in Copper Cliff, near Sudbury, Ontario on June 28, 1941, the son of Dorothy Stonehouse and Lloyd Johnston, the retail manager of a local hardware store.
Mr. Johnston attended Harvard University where he earned a Bachelor of Arts degree in 1963, twice being selected to the All-American hockey team on his way to being named to Harvard's athletic hall of fame. He later obtained Bachelor of Laws degrees from the University of Cambridge and Queen's University.
Mr. Johnston's professional career began in 1966 as an assistant professor in the Queens University Law Faculty. He moved on to the University of Toronto's Law Faculty in 1968 and became dean of Western University's Law Faculty in 1974. He was named principal and vice-chancellor of McGill University in 1979, serving for fifteen years before returning to teaching as a full-time professor in the McGill Faculty of Law. In June 1999, he became the fifth president and vice-chancellor of the University of Waterloo, serving until 2010. He is married to Sharon Johnston, with whom he has five daughters. They are grandparents to 14 grandchildren.
When David Johnston became governor-general, he called upon all Canadians to join in the building of a smarter, more caring nation. His seven-year viceregal mandate; the third-longest in Canadian history; was characterized by inclusiveness, dedication, energy and ambition in quest of a smarter, more caring Canada and a better world.
David Johnston was the 28th governor-general of Canada, from October 1, 2010, to October 2, 2017.
He was appointed as the 13th Colonel of The Regiment on 5 August 2018