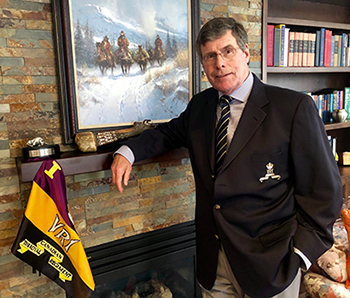 Chair of The RCR Trust – Col (Ret'd) Norris Pettis
Norris Pettis was commissioned from the ROTP program into 1 RCR in 1974 where he served as a rifle platoon commander and mortar platoon commander until 1977 when he was posted to 2nd Battalion the Royal Regiment of Fusiliers in West Germany where he served as the Bn Operations Officer. Returning to Canada in 1979 for French language training, he was posted in 1980 to CFOCS. 1983 saw a return to regimental duty as OC Golf Company in 2 RCR which included a tour in Cyprus.
After CFCSC, he returned to 2 RCR as DCO in 1986 but in early 1987 was assigned as the BAdminO for CFB Gagetown. In 1989 he took command of 1 RCR in London, returning to Cyprus with the unit.
Following three years as a member of the Directing Staff at CLFCSC in Kingston, in 1994 he was sent as COS Croatia Command HQ and DComd of the Canadian contingent with UNPROFOR in the Balkans. A year later he returned to Canada to become G3 at Land Force Command HQ, and following its breakup in 1996, went to Kingston to become the Director of Army Training.
In 1997, he shifted to the DCDS group for the remainder of his career where he served as the Canadian Defence Attaché to the seven countries on the Arabian Peninsula; the Commander of Canadian Forces Northern Area; and finally, the Director of Protocol and Foreign Liaison at NDHQ.
After retiring from the CF in 2006, he was recruited to become a Head of Mission for the Department of Foreign Affairs and International Trade and was assigned as Canada's Consul General in Dallas, responsible for diplomatic, trade and consular affairs for Texas and four surrounding states.
In 2010, he retired from full time work and moved to Comox, BC. For two years he taught Strategic Management for the undergraduate business degree program at North Island College. He also worked with Athabasca University for four years as an academic coach in their Leadership and Management Development program.
In 2016 Norris returned to Ontario where he enjoys life on the St. Lawrence River in Brockville with his wife, Holly and their three Labrador Retrievers.