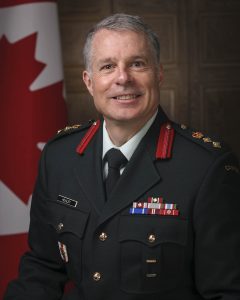 Colonel Brian Healey began his military adventure with the Royal Newfoundland Regiment in St. John's, Newfoundland and Labrador at the young age of 27.  Having thoroughly enjoyed this initial exposure to military life, he completed a Component Transfer to the Regular Force and was posted to The Royal Canadian Regiment.
Colonel Healey has served with the Second and Third Battalions of The Royal Canadian Regiment and has seen deployments to Bosnia-Herzegovina as a Rifle Platoon Commander and twice to Afghanistan, where he served as a Company 2IC in Kabul in 2003, and in 2008 as Officer Commanding Administration Company in Kandahar. His most recent deployment was in 2020 as the Deputy Commander for Capacity Building on Op IMPACT.
Colonel Healey's extra Regimental duty has seen him posted to the Infantry School where he served as the Subject Matter Expert for Basic Infantry Officer Course Phase Two and as 2IC Standards. His unit command was at the Peace Support Training Centre.
His key staff experiences include Canadian Army Headquarters as an International Planner, Assistant Deputy Minister (Policy) as a Senior Policy Officer with the Directorate of NATO Policy, and 5th Canadian Division Headquarters as Chief of Staff.
Colonel Healey is a graduate of the Joint Command and Staff Program.  He holds a Bachelor of Arts Degree in Political Science from Memorial University of Newfoundland, a Master of Defence Studies from Royal Military College, and a Master of Arts in Interdisciplinary Studies from Royal Roads University.
Colonel Healey is currently the Chief of Staff, Canadian Defence Academy and the Regimental Colonel, The Royal Canadian Regiment.