Colonel S.M. French, MSM, CD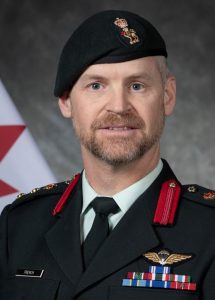 Colonel Sean French was born and raised near Buckingham, Quebec. He enrolled in the Army as an infantry officer upon finishing high school in 1994 and joined the Royal Canadian Regiment in 1999. Col French has had the fortune of serving with the 1st, 2nd and 3rd Battalions of The RCR. He holds a Bachelor's degree in Civil Engineering and a Master's degree in Defence Studies.
Col French has had the privilege to command at the platoon, company and battalion level in a variety of roles to include mechanized, rifle, parachute, anti-armour, and combat service support. His operational experience includes tours of duty in Bosnia as a platoon commander, Afghanistan as a mentor with an Afghan National Army battalion, with the UN Force Headquarters in the Democratic Republic of Congo as a senior liaison officer and commanding NATO's enhanced Forward Presence Battle Group in Latvia. Other career highlights include working with both the US 82nd Airborne, and Polish 11th Armoured Divisions, as well as commanding the Canadian Armed Forces Parachute Team, the SkyHawks.
Staff assignments include time at the Candian Army Advanced Warfare Centre conducting trials, service as the G3 for 4th Canadian Division, and at Chief Force Development on Capability Based Planning and then defining the capability porting of the Strong, Secure, Engaged defence policy.
Col French is married with 2 children and enjoys hunting, fishing and woodworking.
Col French has been fortunate throughout his career to work with great people, they are the Canadian Armed Forces' greatest asset and strength. His most recent position has been with Chief Professional Conduct and Culture as part of the Leadership Support Team which is a new program focused on supporting units in implementing best practices to create stronger units.